Dâmboviţa popular costume keeps local specific elements (Gaba, brief, vâlnicul shirt male skirt) made the peasant farm and consists of: pinstripes woolen shirt, hemp underwear, towels and socks.
Port enriched with influences of neighboring areas which are found in folk costumes and ornamentation color or fota and ia ornamentation. Yet, it can be said that the area is characterized by folk artistic, elegant lines and color ornamental composition.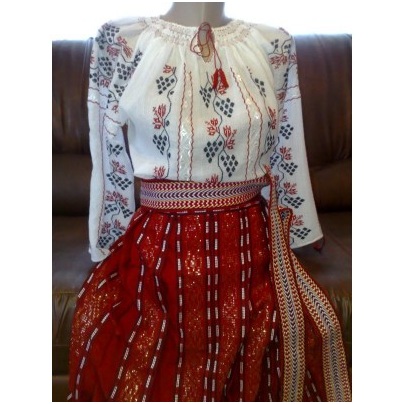 As well as the architecture which forms part of the geographical characteristics of the area (plains and lower mountain regions), local traditional artwork is shown through the interior designs of the dwellings (towels, rugs, cross stitch wall pictures), rich in geometric shapes and harmonious color schemes which give a personal touch to these village homes.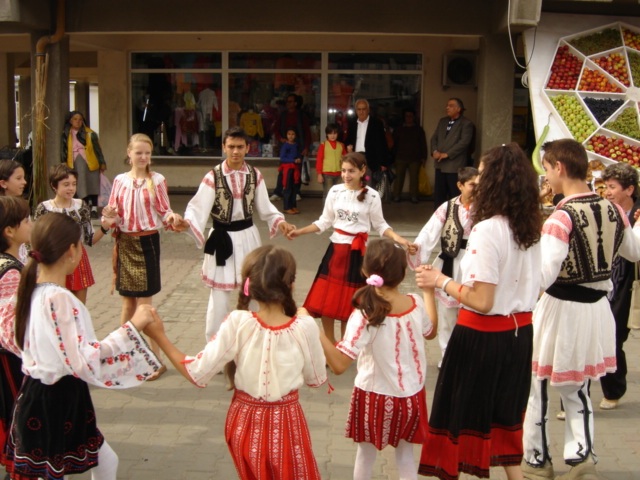 The children's folklore of the area includes a host of events, from chanted verse to the more evolved musical creations.
In terms of children's creations, we have:
a) songs and verse about:
elements of nature (sun, moon, rain, rainbows);
creatures (insects, animals);
inanimate objects
b) songs and games related to the time of the year:
winter period: Sorcova, Plugusorul, Colindul, Cantecul de stea;
spring period: infratit/insuratit, Homanul, Lazarul, Scaloianul/Muma ploii, Paparuda etc.
Crib songs are an adult creation sung for children, resulting from the need to balance the sleep cycles of children. As a result, artistic means were used, which, through their musical and kinestethic rhythms (crib rocking), have a calming effect on the child. There is a type of lyrical song, themed on the love of a mother for her child, or her dreams and hopes for the child's future. They contain elements from the animal kingdom (fish, horses etc.) or the plant kingdom (snowdrops, cyclamen etc.).
The verse is based on a refrain (nani, nani), repeated or combined with other comforting words.
In the 5th chapter, "A repertoire of current family traditions", I will try to present the most significant events which make up the important moments of a person's life: weddings and death, as well as the musical creations which accompany them.
Weddings, in rural Dambovita, are a real show in which members of the whole village attend. They are showy and traditionally combine the archaic moments with modern ones, urban in style (replacing traditional attire with civilian clothing), something also reflected in the musical creations integrated into the event. The wedding ceremony is similar in all regions of the country, in terms of the structure of the ceremony and the meanings, and with the origin of these practices being very old, the moment of the actual wedding is very well prepared. The wedding contains a series of moments with specific significance, which ensure the passing of the young couple from one social standing to another, moments which are strictly respected and accompanied by a particular musical repertoire, the journey to the water, the dressing of the bride, the shaving of the groom, the veiling of the bride,and the wedding dance.